Guru Ramdas Ji, 'A compassionate heart'
Blessings
Whenever we say or hear name of Guru Ramdas Ji, our heart fills with love and compassion. Bhatt states clearly in the swaiye that whosoever calls Guru Ramdas Ji and say 'Dhan Guru Ramdas' with love and devotion will be carried across. This is an article which will take you to the old days of Guru Sahib and tells you about the life and sufferings faced by the 'Sodhi Sultan' Dhan Guru Ramdas Ji Maharaj.
Early life
Guru Ramdas Ji was born in the Chuna Mandi, Lahore in year 1534, His Father's name was Hari Das 'Sodhi' Ji and Mother name was Anoop Devi AKA Daya Kaur Ji. When he was very young his mother passed away. Later his Father also got expired and Guru Ramdas Ji became orphan at the age of 7. Guru Ramdas Ji was raised and brought up by his Grandmother 'Nani'. Guru Ji's initial name was Bhai Jetha Ji. As their Grandmother was too old so she couldn't work, financial condition of house was so bad and whole responsibility in now on the shoulders of Bhai Jetha Ji. No relative was ready to help them, They rather started criticizing Bhai Jetha Ji by making disrespectful comments like, 'It is because of you your parents passed away. Why you are still alive?!' Nobody in their area allowed their children to play with Bhai Jetha Ji. People thought that he was unlucky and that is why his parents passed away, But besides all this Bhai Jetha Ji's sea-like-heart absorbed all the criticism deep within without any complaint.
Guru Ramdas Ji often used to ask about their parents from their Grandmother like 'Everyone has Mom and Dad. Where my parents have gone?' Sometimes their grandmother's eyes got wet by hearing innocent talks of Bhai Jetha Ji.
They need money to survive, For this Bhai Jetha Ji's Grandmother used to cook boiled and salted grams, which Bhai Jetha Ji sell in the market. From this, they got some money to fulfill their very basic needs. Bhai Jetha Ji used to give all the earned money to his Grandmother on the daily basis. And whenever they got chance to help them he gave grams to the needy people.
One day Bhai Jetha Ji was passing from the street, Suddenly he heard someone's voice, 'O child.' Again after sometime, 'O child listen to me', Bhai Jetha Ji listened and humbly closed both his hand and said 'Yes sir'. There was a Sadhu asking for some food. Bhai Jetha Ji knew that if he don't sell the grams ('Ghuggnia') he would go home empty-handed. Bhai Jetha Ji offered all of his Grams to the sadhu anyways. The sadhu became very happy and asked Bhai Jetha Ji,'What's your dad's name?' But Bhai Jetha Ji said innocently, 'I don't have my parents, They are no more.' Then sadhu said, 'As you have fed me today with this food, a time will come, you will bless and feed thousands and thousands of people daily, And whosoever comes to you will never go back empty handed.' By hearing this and getting blessings from sadhu, Bhai Jetha Ji happily came back home. And told his story to his grandmother about this sadhu whose eyes moistened hearing the tale. She hugged, kissed and blessed him.
Relocating to Goindwal Sahib
Later, By hearing glorious glory of Guru Amar Das Ji, Bhai Jetha Ji relocated to Goindwal Sahib. When he was just 12 years old. Bhai Jetha Ji carried on his profession there also and they used to do niskam sewa ( Selfless Service) there with love, devotion and humility.
Somehow Bhai Jaita Ji's relatives got news from somewhere about Bhai Jaita Ji's migration, They rushed to Goindwal Sahib to see Bhai Jaita Ji. When they arrived there they saw Bhai Jaita Ji was doing sewa and his clothes were wet from carrying mud and doing manual labor. They got another chance to criticize him. They took him to Guru Amar Das Ji and said, By doing this you are disrespecting us, this same work you could do in Lahore. You made us prestigious Sodhi family feel shame. Bhai Jaita Ji was listening to them but didn't say anything. Later Guru Amardas Ji replied, 'O really, this man made you shame? Well you are seeing his muddy clothes but I am seeing crown of two worlds in this mud. Just because of this man your whole Sodhi caste will be saved.' Then Guru Ji let Bhai Jaita Ji to sat on his own seat and bowed before him and gave him Guruship, in year 1574, and words of the sadhu now came true. Guru Amardas Ji's wife often noticed Bhai Jaita Ji doing sewa out there and was very impressed by seeing Bhai Jaita Ji's compassion, innocence and selflessness. And after considering and consulting it with Guru Amar Das Ji, they finally decided to marry their younger daughter Bibi Bhani Ji to Sri Guru Ramdas Ji. Guru Ramdas Ji had three children Phrithvi Chand, Mahadev and Guru Arjun Dev Ji.
Amritsar 'sifti da ghar'
Later Guru Ji introduced city Amritsar as it was the dream of Guru Amardas Ji to make a spiritual center there, where people could find peace and tranquility. Later Guru Arjun Dev Ji completed this task with the help of Mahapuraks (great beings) such as Baba Budha Ji, Saint Mian Mir (who laid the foundation stone of Harimander Sahib), and other Gurmukhs, Sangat and workers. Amritsar initial name was 'Guru Ka Chak' or Chak Ramdas, Later it's name changed to Ramdas Pur. Guru Ramdas Ji encouraged people to expand their business there and Guru Ji also gave them financial help from the Guru's house to start their business in the holy city. That's the reason many successful business man still lives there, This is all the blessings of the Guru Ramdas Ji.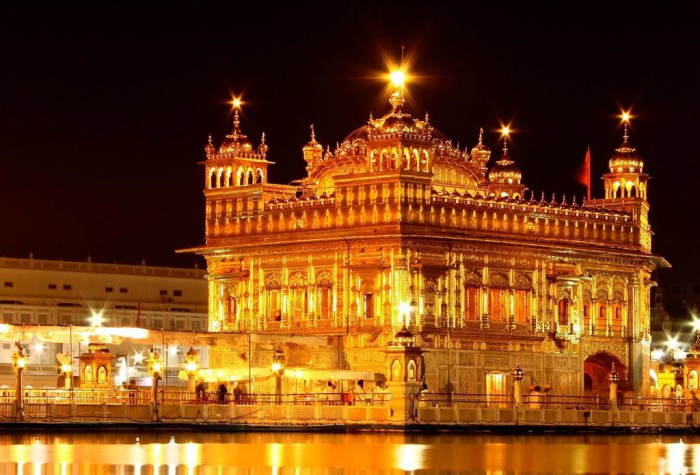 Harmandir Sahib, Amritsar
Guru Ramdas Ji wrote 638 hymns in 30 raags. These include 246 padai, 138 saloks and 31 astpadis and 8 vaars which are written in the Guru Granth Sahib Ji. Guru Ji gave us beautiful bani named 'lavan' which guide us in simple steps to unite with the god and Bani 'Lavan' is used for solemnize the marriages of Sikh children. Bhatt wrote total 123 swaiye (Bani written by bhatt to praise First 5 Guru Sahiban and it is also written in the Guru Granth Sahib Ji). And out of 123 swaiye, 60 swaiye are written to praise Guru Ramdas Ji only.
Shabad of Guru Ramdas Ji with English Translation
ਧੰਨੁ ਧੰਨੁ ਰਾਮਦਾਸ ਗੁਰੁ ਜਿਨਿ ਸਿਰਿਆ ਤਿਨੈ ਸਵਾਰਿਆ ॥
DHAN DHAN RAMDAS GUR JIN SEREYA TINAY SAWAREYA
Blessed, Blessed is Guru Raam Dass; He who created you, Has also exalted you.
ਪੂਰੀ ਹੋਈ ਕਰਾਮਾਤਿ ਆਪਿ ਸਿਰਜਣਹਾਰੈ ਧਾਰਿਆ ॥
PURI HOYI KARAMAT AAP SIRJANHARAY DHAREYA
Perfect is Your miracle; the Creator Lord Himself has installed You on the throne.
ਸਿਖੀ ਅਤੈ ਸੰਗਤੀ ਪਾਰਬ੍ਰਹਮੁ ਕਰਿ ਨਮਸਕਾਰਿਆ ॥
SIKHI ATAY SANGATI PARBRAHAM KAR NAMASKAREYA
The Sikhs and all the Congregation recognize You as the Supreme Lord God, and bow down to You.
ਅਟਲੁ ਅਥਾਹੁ ਅਤੋਲੁ ਤੂ ਤੇਰਾ ਅੰਤੁ ਨ ਪਾਰਾਵਾਰਿਆ ॥
ATAL ATAH ATOL TU TERA AANT NA PARAVAREYA
You are unchanging, Unfathomable and immeasurable; You have no end or limitation.
ਜਿਨ੍ੀ ਤੂੰ ਸੇਵਿਆ ਭਾਉ ਕਰਿ ਸੇ ਤੁਧੁ ਪਾਰਿ ਉਤਾਰਿਆ ॥
JINI TU SEVEYA BHAO KAR SE TUDH PAR UTAREYA
Those who serve You with love – You carry them across.
ਲਬੁ ਲੋਭੁ ਕਾਮੁ ਕ੍ਰੋਧੁ ਮੋਹੁ ਮਾਰਿ ਕਢੇ ਤੁਧੁ ਸਪਰਵਾਰਿਆ ॥
LABH LOBH KAMM KRODH MOH MAAR KADAY TUDH SPARVAREYA
Greed, Envy, Sexual desire, Anger and emotional attachment – You have beaten them and driven them out.
ਧੰਨੁ ਸੁ ਤੇਰਾ ਥਾਨੁ ਹੈ ਸਚੁ ਤੇਰਾ ਪੈਸਕਾਰਿਆ ॥
DHAN TU TERA THAN HAI SACH TERA PAISKAREYA
Blessed is Your place, and True is Your magnificent glory.
ਨਾਨਕੁ ਤੂ ਲਹਣਾ ਤੂਹੈ ਗੁਰੁ ਅਮਰੁ ਤੂ ਵੀਚਾਰਿਆ ॥
NANAK TU LEHNA TU HAI GUR AMAR TU VICHAREYA
You are Nanak, You are Angad, and You are Amar Daas; so do I recognize You.
ਗੁਰੁ ਡਿਠਾ ਤਾਂ ਮਨੁ ਸਾਧਾਰਿਆ ॥੭॥
GUR DITHA TAAN MANN SADHAREYA
When I saw the Guru, then my mind was comforted and consoled. ||7||
(SGGS Ji, Ang-968)