Bhai Vir Singh: The Sixth River of Punjab
Bhai Vir Singh (December 5,1872 – June 10, 1957) is known as a 'MaIter of Punjabi Literatuze' and hence `The Sixth River of Punjab'. He was a poet, novelist, editor, exegete, historian and a journalist. He was the leading figure in the Singh Sabha, the dynamic Sikh renaissance movement in early 20. century Punjab.
Bhai Vir Singh was born into a family of scholars, and he grew up in the holy city of Amritsar. He finished his Matriculation winning the district boards gold medal. When he was still at school, he was married to Bibi Chattar Kaur.
Considered to be the harbinger of modern Punjabi literature, Bhai Vir Singh wrote prose, novels, poems, plays and historical research. He also started publishing Khalsa Samachar, the first Punjabi daily. Through the pages of Khalsa Samachar, he tried to bring about social and religious reform such as importance of education, equal rights to women, abolition of the caste system, and so on. He established the Khalsa College in Amritsar, and with the help of Wazir Singh, he set up a lithographic press in Amritsar in 1892. The following year he started the Khalsa Tract Society with a view to serving the count, and the Khalsa Panth. He was a great scholar not only of Sikhism but also of Hinduism, Buddhism, Christianity and Islam.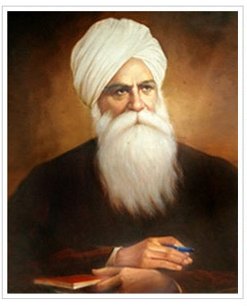 Bhai Vir Singh also edited and published Prachin Panth Prakash and Janamsakhi, the life-sto, of Guru Nanak Dev. He organised the Chief Khalsa Diwan, a representative body of the Sikhs for bringing about religious and social reforms. Since very few cared to get themselves educated during his day, he formed the Sikh Educational Committee for spreading of education.
Bhai Vir Singh inspired novelists like Nanak Singh, Bhai Mohan Singh Void, Charan Singh Shahid, Master Tara Singh, and Gurbakhsh Singh. Panjab University conferred on him a doctorate in Oriental Learning, and the Sahitya Akademi awarded him its first annual award for outstanding contribution to Punjabi literature. He was also awarded the Padma Bhushan. He was nominated member of the Punjab Legislative Council in 1952.
Bhai Vir Singh was the most important writer and theologian in Punjabi who expounded Sikh history and philosophy for more than fifty years. He is regarded as the Bhai Gurdas of the twentienth century. His most important works are Guru Nanak Chamatkar, Kalgidhar Chamatkar, Baba Nodh Singh and Meray Saeeyan jeeo.
His poet, possesses the sublimity of Milton, the spontaneity of Wordsworth, the music of Tagore and the mysticism of Yeats. He was the `finest flower' in the renaissance of modern Punjab. Dr. Vir Singh sang of the struggles of the village folk. He wrote poems on freedom and patriotism.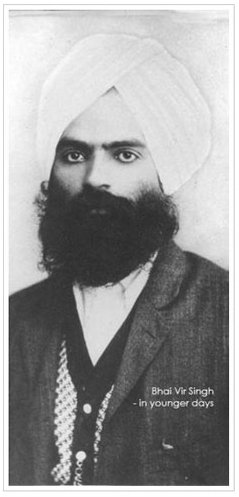 Bhai Vir Singh was very versatlie. He was poet, novelist and critic. He found spiritual lessons in the objects of Nature. The Kikar Tree is a symbol of the spiritual seeker who must face the slings and arrows of worldly people. His poetry throbs with the longing of the individual 5111 11 rejoin the Universal Soul. The hurdle between man and God is the Ego. Once that is subdued, man may meet God, face to face. He would find beauty and God's presence in the ordinary things of life. He believed toot could find peace and bliss through self control and spiritual effort.
Dr. Vir Singh was also a historical novelist. His important works in this genre are Sundri, Bijay Singh and Satwant Kaur. Their popularity, is such that they have been reprinted many times.
Bhai Vir Singh was not only a philosopher but also a stylist. Even his prose captures the dignity and harmony of poet,. Kalgidhar Chamatkar is full of purple passages. A registered society, Bhai Vir Singh Sahitya Sadan, is now busy publishing his works and popularising them among the masses. His centenary was celebrated in India and abroad in 1972.
Bhai Vir Singh's creative talent was recognized by the government and the Punjab university. He was given the title of Padam Shri by the Gov. of India and a Honorary Doctorate by the Punjab University. H. Chattopadhaya called him the "sixth river in the land of the five rivers."